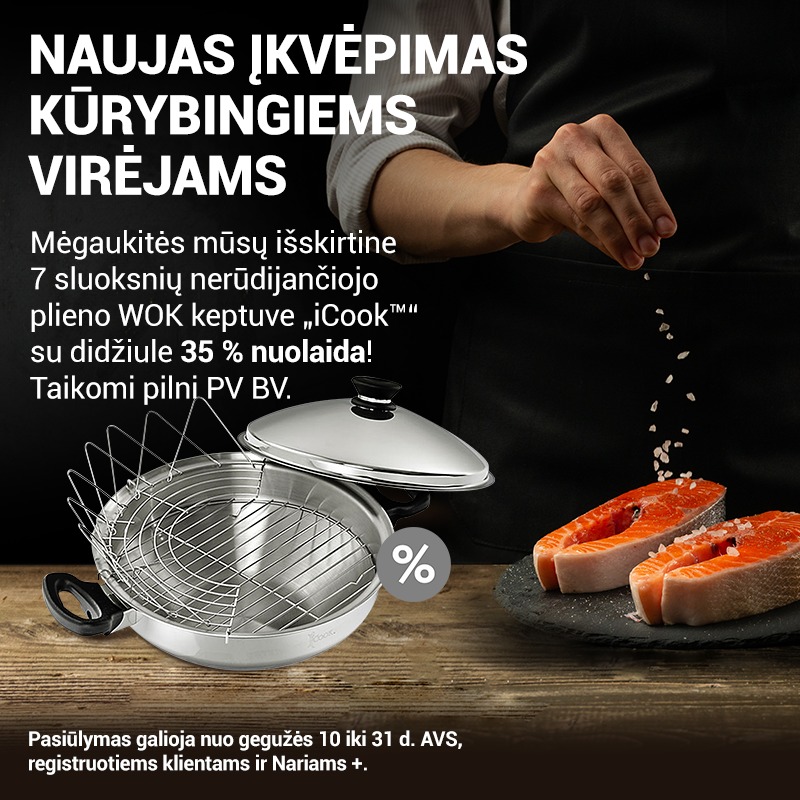 Pristatome akciją – 35 proc. nuolaidą keptuvei iCook!
Kuo unikali iCook Wok konstrukcija? Keptuvę sudaro 7 nerūdijančio plieno sluoksniai.
Vandens kiekis gali keisti produktų skonį, tačiau keptuvė iCook išsaugo maisto skonį, spalvą, konsistenciją, ir kitus naudingus komponentus. Maistas gali būti gaminamas su mažu vandens kiekiu.
Keptuvė puikiai tinka azijietiškos virtuvės patiekalų gaminimui, taip pat tradicinių patiekalų gaminimui.
Keptuvė sukonstruota naudojant WOK technologiją iš septynių skirtingų sluoksnių iš plieno, be to yra padidintas aliuminio kiekis. Minėtos medžiagos užtikrina, kad šiluma tolygiai paskirstys po visą indą ir užtikrins tolygų maisto gaminimą.
Pirkdami keptuvę dar gausite stovą ir sietą dovanų, kurie palengvinantis gaminimo procesą. Indas itin patogus gaminti patiekalams iš mėsos, daržovių ar jūros gėrybių.
Norite įsigyti iCook keptuvę su nuolaida? Registruokitės ir pirkite!
https://namamama.lt/kaip-pirkti/

Apie AMWAY produktus taip pat skaitykite el. p. https://nama.lt//